Program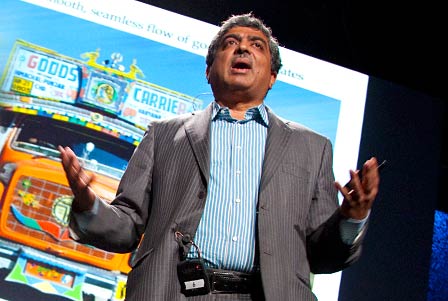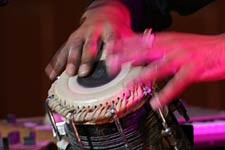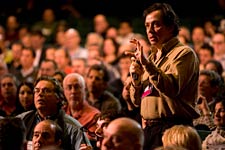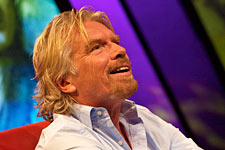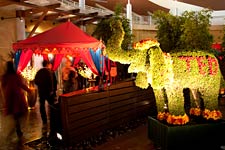 At a time of economic uncertainty, one thing remains clear. There's an unmistakable shift of influence to the east. It's not just about IT outsourcing. Increasingly India, China and the rest of Asia are making their presence felt globally in new technologies, design brilliance, cultural and economic innovation. And so, our conference theme: "The Future Beckons."
To learn more, watch the TEDIndia preview video or browse TEDTalks in the special Theme "A Taste of TEDIndia."
TEDIndia: The Future Beckons
Even the site of our conference is a powerful metaphor for the reshaped world of the 21st century. It's being held at the incredible high-tech campus built by Infosys to train its thousands of engineering graduates, representing the heart of the Asian outsourcing industry. We can think of no more appropriate place to gather to think about tomorrow.
Details of the speaker program will be revealed approximately 2 months prior to the conference (as is always the case with TED events), but it's already shaping up to be an extraordinary line-up. Speakers will include India's most promising innovators, from entrepreneurs to artists, storytellers to scientists. And about one third of the program will come from outside India. We'll hear from celebrated global icons as well as undiscovered talent that's due broader recognition.
Some of the questions we're planning to tackle:
Which local innovations are destined for global impact?
Who are the young thinkers and doers capable of shaping the future?
Can there be economic advancement without environmental destruction?
Can a pluralistic democracy survive in the face of rising fundamentalism?
Can we make money and be good? Really?
What should we learn – or fear? -- from China's investment in Africa?
Do we have enough water for everyone?
How do we keep our youth challenged and our aged healthy?
How can anti-poverty solutions be brought to scale?
Is there wisdom to be found in traditional medicine??
Which other ancient traditions can illuminate modern life?
Schedule:
Wednesday, Nov. 4:
Pre-conference tours; please see email confirmations for times.
Ted University Session 1: 3-3:45pm
Ted University Session 2: 4:15-5pm
Thursday, Nov. 5:
TED University Session 3: 8:45-10am
TEDIndia Session 1, "Fast Forward": 11am-12.45pm
TEDIndia Session 2, "Not Business as Usual": 2:15-4pm
TEDIndia Session 3, "Wonder. Wonders.": 4:45-6:30pm
Welcome Party 7:30-9:30pm
An Evening of Music
Friday, Nov. 6:
TEDIndia Session 4, "Reinventing Development": 8:30-10:15am
TEDIndia Session 5, "Redesigning Community": 11am-12:45pm
TEDIndia Session 6, "Green and Blue": 2:15-4pm
TEDIndia Session 7, "Power of Stories": 4:45-6:30pm
An Evening at the Palace
Saturday, Nov. 7:
TEDIndia Session 8, "Learning to Learn": 8:30-10:15am
TEDIndia Session 9, "Within You, Without You": 11am-12:45pm
Post-Conference Tours; please see email confirmations for times
...
The TEDIndia experience will include:
A fast-paced, highly curated three-day stage program featuring TED's famous 18-minute talks, plus music, comedy, dance, short talks, video interludes and other surprises
TED University, the hugely popular pre-conference session where attendees share their areas of expertise, from "How to negotiate a term sheet" to "How to break a board with your bare hands."
Optional pre-conference activities, including carefully curated TED-exclusive tours of local historical sites and visits with regional NGOs
Gorgeous, immersive evening events at historic sites around Mysore
Art exhibits, tech demos, and other immersive on-site experiences
Intense conversation breaks, where attendees and speakers delve into the ideas introduced on stage
Our unique Simulcast room, where you can watch the entire conference in a more informal setting
The famous TED Gift Bag, free to all attendees and filled with complimentary goodies
Online tools for connecting with other attendees, before and after the conference
Browse TEDTalks in the special Theme "A Taste of TEDIndia" >>
Watch the TEDIndia preview video >>